A new scheme is being rolled out in pharmacies across the country to assist victims of domestic abuse. ANI stands for Action Needed Immediately and is a codeword that people who are suffering from abuse can say in participating pharmacies to let staff know that support is needed.
The scheme has been developed with the help of partners including the domestic abuse sector, pharmacy associations and the police and is being rolled out across the UK from January 2021. It is being independently evaluated by Ipsos MORI and we are keen to work with local areas to assess how the scheme is working and understand how it can be improved and adapted to meet local needs.
How does the scheme work?
Victims of domestic abuse will be able to use the codew'[ord ANI in participating pharmacies (including all Boots stores and participating independent pharmacies) to let staff know that they require an emergency police response or help contacting a helpline or specialist support service.
Participating pharmacies will display posters in their window and around the pharmacy to let customers know that they can approach their staff to seek help. Any information shared will be treated confidentially. When a victim uses the codeword or asks for help, the member of staff will offer to accompany the individual to the consultation room. They will then check whether the victim wants the police to be called. If so, the staff member will offer the use of a phone to dial 999 or make the call on the victim's behalf.
As a domestic abuse service in Tameside, our Bridges team is working with the participating pharmacies within our communities to provide support in the event that someone uses that ANI codeword.
In addition to all Boots stores, the following independent pharmacies in Greater Manchester have confirmed that they are taking part in the scheme:
Mia's Pharmacy, Stockport
Shanti Pharmacy, Bolton
Centre Pharmacy, Cheadle Hulme
Scorch Chemist, Cheadle
Abram Pharmacy, Abram
Hobbs Pharmacy, Oldham
The scheme is open to any pharmacy to join. Participating pharmacies will have a poster similar to the one below in their windows or reception. Pharmacies can sign up to the scheme by completing this online form.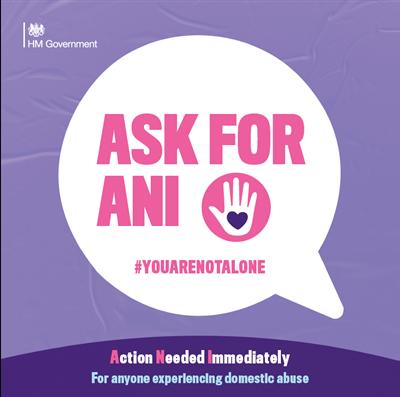 If you're experiencing domestic abuse of any kind, do not suffer in silence. Our Bridges team is here to help. You can contact them in confidence by calling 0800 328 0967 or emailing bridges@jigsawhomes.org.uk.